Gold Odette x Bronze Raphael P8T15
Flight - Early Winter, T15, 8th Pass
[Clutching] - Off camera
Hatching - Early Spring, T15, 8th Pass
Dam: Gold Odette (Talora)
Sire: Bronze Raphael (Azrael)
Totals: 9
Gold: 1
Bronze: 2
Brown: 1
Blue: 1
Green: 4
PC Fire-lizards:
The Worldly Gold Jilla to Ellandra (Kitya)
Colour: Gold
Adult Size: 17" wingspan of 27"
Age: Hatchling
Physical Description:
The WORLDLY GOLD is a beauty in her own right. From her head to her back legs she is a pale gold colour, but her forearms, wings, back and tail are a darker, richer looking gold. She looks almost like she's wearing a cloak. On the inner part of her wings is an infinity symbol, and on her forearms she has the roman numeral I. She's a delicate looking gold, with little muscle to her, but she's not lanky or skinny. She's an average size for a gold, though she thinks she is much bigger.
Personality:
The WORLDLY GOLD acts as if she is ages old, though also innocent at the same time. She will often keep right next to her owner, not wanting to stray to far from them. She will constantly be chirping in her owners ear, as if giving them advice on everything. Her owner is her world, and she wouldn't want it any other way. She will always move with grace and purpose in anything she does. She will always have a playful side, usually brought out by her owner. If something goes missing, it's usually because WORDLY GOLD has decided to play a game.
The WORLDLY GOLD will be an excellent messenger, and one who is easily trained. In flights, she will allow any to chase her and catch her if they can. She tend to prefer flits that are older and wiser and will often pick them over the young show-offs. She will like the flits who are straight forward with their chase rather than those who are sneaky.
Inspiration: The Magician (I) Tarot Card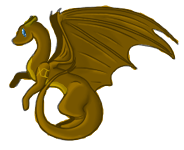 Truth and Fairness Bronze to Mavin (WunderingMind)
Colour: Bronze
Adult Size: 19" wingspan of 34"
Age: Hatchling
Physical Description:
The TRUTH AND FAIRNESS BRONZE is a very large flit. He is on the muscular side as well, causing him to be a little slower than the others. At first glance he is a very simple coloured bronze, but if one was to look closer, they'd see this simply wasn't so. His headknobs are dirtier looking than the rest of his body, with an almost murky look to the colour. This pattern goes down and around the knobs, with a spot right between the knobs that is the same shade as the rest of his body, giving an almost crown like appearance to it. His chest and underbelly are a more golder bronze and right as his chest turns colours, there is what looks to be a perfect square of darker bronze. On his front forearms is what looks like the roman numeral XI.
Personality:
TRUTH AND FAIRNESS BRONZE may see compassionless and unemotional, but this is far from the truth. Rather, he just wants others to be fair, just, and truthful. While he may be a bronze, he does not see himself above other colors. He will expect his owner to uphold these values as well and will become distant if they are not. If he feels his owner is lying, he will start to chirp and warble, as if telling them off. He will enjoy sitting on his owners shoulders, watching the world around them. He feels he must uphold the natural order of the world.
This flitter will require very little training to behave, and will be one of the easier to handle flits. He will quickly pick up skills, and enjoy learning. In flights TRUTH AND FAIRNESS BRONZE will enjoy chasing the female flits. He will always fight fairly, and will never lash out at other flits chasing, unless they were to lash out first.
Inspiration: The Justice (XI) Tarot Card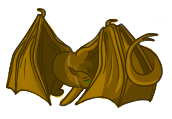 The Invisible Bronze to Q'tus (Emma)
Colour: Bronze
Adult Size: 17" wingspan of 27"
Age: Hatchling
Physical Description:
INVISIBLE BRONZE is average, all around. He's a duller, old bronze colour all over his body. The only thing that stands out is a noose shaped pattern around his neck and down half his back that's a slightly brighter shade of bronze. He has the roman numeral XII on his front forearms. He is not the fastest or slowest flier, and he's not the strongest or weakest either. He really is a rather invisible, forgettable firelizard. His wings are large enough for him to hide his head in when needed.
Personality:
INVISIBLE BRONZE, much like his looks, has a rather forgettable personality, at least on the surface. This bronze doesn't like to stand out, and because of this isn't a very successful flier, though he does have better success at catching greens than golds. He will often bury his head to everyone he doesn't know well. He will always stick close to his owner, not wanting to leave their side. Because of this he will not make a very good messenger, but will make a very loving companion.
Despite being shy, he is very idealistic, and will put himself in harms way to protect those he cares for. He will also encourage his owner to break any habits or behaviors that he dislikes.
Inspiration: The Hanging Man (XII) Tarot Card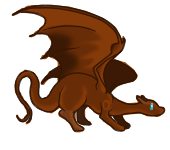 New Beginnings Brown to Fa'sh (Rhee)
Colour: Brown
Adult Size: 14" wingspan of 22"
Age: Hatchling
Physical Description:
NEW BEGINNINGS BROWN is a very simple brown in terms of pattern. His hide is a nice, muddy brown. His headknobs and back feet are a lighter, dirtier colour of brown. His feet look almost like he is wearing boots. On his front forearms he has what looks like a zero or O. NEW BEGINNINGS BROWN is on the average side. He's not to big, nor is he too small. His eyes are slightly larger than average, giving him a look of innocence, even as an adult.
Personality:
NEW BEGINNINGS BROWN is adventurous, and that's really an understatement. This flit cannot stay still and will constantly wonder off, even in new places. He will often leave his owner behind, though he will always come back for a good oiling and for love. He will often encourage his owner to come with him, but won't wait long for an answer. NEW BEGINNINGS BROWN is carefree and often can be found sunning when he's not off exploring. He also tends to be happy, and almost never worries or gets upset. In flights this flit is carefree and will have a hard time mastering them, but he'll never stop trying. He prefers to chase greens over golds.
Inspiration: The Fool (0) Tarot Card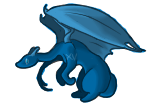 The Troublemaker Blue Wingman to M'tain (Kitya)
Colour: Blue
Adult Size: 12" wingspan of 21"
Age: Hatchling
Physical Description:
The TROUBLEMAKER BLUE is a funny lookng firelizard, and rather simple. His wings, even as an adult, are almost comical to look at. They're lighter than the rest of his body, and almost look like they belonged to another firelizard all together. His headknobs are the same shade of blue as his wings, and are just slightly longer than normal, looking almost like horns sitting atop his head. On his front forearms is what looked like the Roman Numeral XV.
The TROUBLEMAKER BLUE is on the average side. He has some muscle mass too him, but he's not bulky. He's slightly lean in some places, particuarly his stomach; however, this flit could very easily become fat if he's not watched.
Personality:
The TROUBLEMAKER BLUE is a flit that is content to do as he wishes, and will be harder to train than most. He enjoys anything he finds pleasureable and will continue to do it over and over if not properly trained. TROUBLEMAKER BLUE will often trick others to get what he wants. If his owner is carefree and enjoys the 'finer' things in life, he will be right there, warbling into his ear, as if to encourage said behavior.
Once he as reached sexual maturaty, TROUBLEMAKER BLUE will chase any and every green or gold that rises. Often he'll drop out of the gold chases, as they are to long for him and he looses interest. But he will enjoy green flights, and will do anything he can to win them.
Inspiration:The Devil (XV) Tarot Card

I Love You Green to Phyrra (Shouriko)
Colour: Green
Adult Size: 8" wingspan of 11"
Age: Hatchling
Physical Description:
I LOVE YOU GREEN is very, very small, even as an adult. With her small size, she's also petite, being on the thinner side, with very little muscle mass to her. She's very easy to just pick up and carry around, and could even be settled nicely and comfortably in a bag.
I LOVE YOU GREEN looks like two different green's put together. On her right side she's a lighter, brighter shade of green and on her left she's a darker, duller shade. She's perfectly split in half from the tip of her nose to the end of her tail. On her front forearms is a marking that looks like the Roman Numeral VI.
Personality:
I LOVE YOU GREEN is an affectionate little thing and will love to snuggle close to her owner. She'll constantly want to stay by their side, protecting and encouraging them in everything. Should the owner own any other firelizards, she too will love them just as much. In fact, there's very few things this flit won't love. However, her bond between her owner and her will always be the strongest. I LOVE YOU GREEN hates it when others fight, and if the owner gets into an argument with someone, she will be right there trying to bring peace.
In flights, this flit isn't much different from other greens. Her flights are short and full of graceful twist and turns. However, I LOVE YOU GREEN is also passionate with her flight, and expects any one chasing her to be as well. She will put her all into the flight, and they must as well.
Inspiration: The Lovers (VI) Tarot Card

Royal Green to E'sai (vandelay)
Colour: Green
Adult Size: 9" wingspan of 15"
Age: Hatchling
Physical Description:
ROYAL GREEN is a beautiful green. She's a darker shade of meadow green, with lighter green patterns on her neck, head and inner wings. On her headknobs is what looks like a crown, covering a large park of her head above her eye ridges. Around her neck is perfect circles, hanging almost like a pearl necklace. On her inner wings is a imperfect heart shape all just slightly lighter green than the rest of her body. She has the roman numeral III. She is a petite green, with very little muscles or fat to her. Her wings and her body are an average size for a green, with her tail being a little longer than most.
Personality:
ROYAL GREEN is the very definition of a lady. She always holds herself in a regal manner, with very gentle, graceful movements. She is calm and graceful in everything that she does. She knows she's beautiful, but doesn't flaunt it, thinking such things beneath her. ROYAL GREEN will often encourage her owner to hold these values as well, getting upset if they don't look clean and presentable and she will let her owner know this.
ROYAL GREEN will always enjoy the attention that she gets from flights, though she wouldn't show it. She will always seek out the more mild mannered and attractive looking males and completely disregard any that don't suit her tastes. She will generally produce on the higher end of green eggs, though like most greens she will not stay with the nest.
Inspiration: The Empress (III) Tarot Card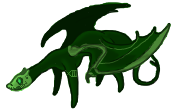 Skull and Bones Green to Wirrinia (wunderingmind)
Colour: Green
Adult Size: 9" wingspan of 15"
Age: Hatchling
Physical Description:
SKULL AND BONES GREEN is on the smaller size to greens, though she came from on of the bigger eggs. She is very thin looking and even as an adult she will look almost like she's starving, even though she eats well. Her wings are larger than her body size, giving her an almost comical look, especially as a hatchling. Her whole head and ears are a lighter green with darker green, almost black, spots making her look like she's wearing a dragon's skull. Both the inner and outer parts of her wings have the same lighter green shade that make a pattern very similar to a dragons wing bones. The rest of her body is the same almost black green as on her head. On her forearms she has what looks like the Roman Numeral XIII.
Personality:
SKULL AND BONES GREEN is a curious little flit. She's very impartial to others, not favoring anyone over anyone else. This includes flights where she simply will let fate decide her mate, rather than picking a favorite. This little flit will have a hard time making friends, as others might be scared of her looks. It's all a big misunderstanding however, as she's really not anywhere near as scary as others think. SKULL AND BONES GREEN accepts change quickly, and can fly from one thing to another with no difficulty. She'll often forget what she had previously been doing though, so she often won't go back to other tasks. This flitter is neither mean nor nice, but will be wary of anyone she feels is meaning harm to her owner.
Inspiration: The Death (XIII) Tarot Card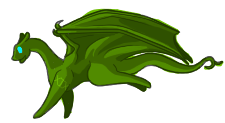 Sunshine Meadow Green Meadowlark to Olissia (Dragonblossom)
Colour: Green
Adult Size: 12" wingspan of 20"
Age: Hatchling
Physical Description:
SUNSHINE MEADOW GREEN is a vibrant, medium yellow-green colour. She looks like a field of grass in the middle of a hot, summer day. She looks like a solid colour, however upon closer inspection she has waves of a slightly darker green all over her body. She is a large green, even as a hatchling. She has large wings that match with her body perfectly. She's slightly more muscular than other greens, and a bit heavier in the middle. Her tail is also longer than average, but somehow just seems to work for her. On her front forearms is the roman numeral XIX.
Personality:
If SUNSHINE MEADOW GREEN's personality could be summed up in one word it would be, fun. This flitter loves to have fun! She will constantly be on the move, trying to get other firelizards and her owner to play with her. She will always act like a hatchling, and will be playful even during flights. Training her will be a chore as she will prefer to make a game out of it. SUNSHINE MEADOW GREEN will almost never be down, and will try her hardest to make her owner happy when they are upset or angry. She will perch on her owners shoulder, but she won't stay there for long. She will always be proud of herself and bring her owner gifts, be it shiny things she had found, dead tunnelsnakes, or seashells.
Inspiration: The Sun (XIX) Tarot Card
Notes:
Credits: Kati. Firelizard lineart by InkDragoncreations
page revision: 11, last edited: 05 Feb 2016 03:19